Monday, October 26 2020, 01:50 pm
Upgrading my viewing experience for 4K
The world has been slowly transitioning to "4K" video for the past 5 years. The leap from 1080p "Full HD" (FHD) to 2160p "Ultra HD" (UHD) is riddled with a few alternative sizes, codecs, and optional features. After playing the waiting game long enough I felt it was finally time to upgrade my HTPC that powers my main media consumption to support the new media formats.
Origin Story
Almost eight years ago today on November, 2012, I purchased my original home theater PC (HTPC). The target was something that would play 1080p FHD video and audio through an HDMI connection. I'll also list the original purchase prices from that time.
Motherboard: ASUS P8Z77-I DELUXE (Mini-ITX) - $179.99
CPU: Intel Core i3-3225 (3.3Ghz Ivy Bridge, 2-core, 4-thread) - $129.99
RAM: 2x4GB G.Skill DDR3-1600 CL9 1.25v - $42.99
Total: $352.97 ($0 sales tax)
At the same time I also had to buy the mini-ITX case, SSD, and slot-load blu-ray drive, but those are still in use today. This system was capable of playing the most common video codec of the time, H.264, but that codec is being slowly phased out for the future alternatives of H.265, VP9, and AV1. The i3 CPU can only offload H.264 processing so some, high quality "4K" media using H.265 or VP9 would stutter on playback.
The Upgrade
Motherboard: Gigabyte B450 I AORUS PRO WIFI - $119.99
CPU: AMD Ryzen 5 3400G - $134.99
RAM: 2x8GB Crucial DDR4-3600 CL16 1.35v - $74.99
Total: $357.19 ($27.22 sales tax)
So for roughly the same price (or cheaper sans sales tax and inflation) I was able to get a "4K"-ready replacement system. The motherboard and CPU are HDMI 2.0b compatible so I should be able to play any current "4K" media. The CPU can offload processing of H.264, H.265, and VP9. All 4K media I have thrown at it has played smoothly as expected. The AV1 codec will be supported in 2021-2022 CPUs, but if it is anything like the adoption rate of H.265 it will be a few years before it is in widespread use.
Benchmarks
An ulterior motive for the upgrade was to also be able to play a few games. The i3 could play very basic games, or I could use Steam remote play, but I wanted something more robust. The 3400G provides that. All benchmarks used the same SSD so software was identical. Fedora 32 was the base OS and was fully updated as of October 23, 2020. Base software: Kernel 5.8.15, Mesa 20.1.10.
Unigine Heaven
Resolution: 1920x1080
Quality: High
FSAA: Disabled
Tesselation: Disabled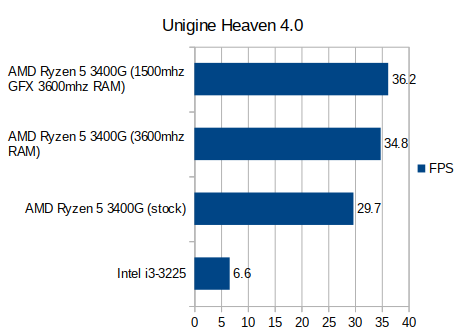 VA-API
Test File: 1980x1080, 60FPS, 14Mbit H.264 Video, 13 minutes long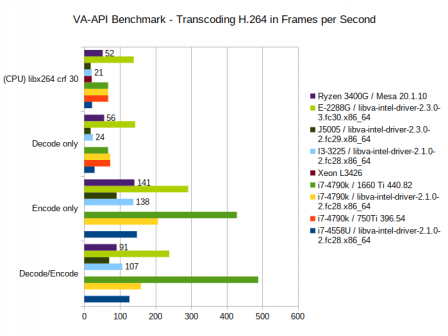 Power Utilization
Core i3 System - Idle: 32 watts
Ryzen 5 System (Overlocked) - Idle: 21 watts
Core i3 System - FHD Movie: 38 watts
Ryzen 5 System (Overlocked) - FHD Movie: 30 watts
Ryzen 5 System (Overlocked) - UHD Movie: 39 watts